Restaurants
 The Sugar Mill is famous for food
The Sugar Mill Hotel has two restaurants
The Sugar Mill  - a fine dining restaurant featuring fresh lobsters, the best steak in our "Steak Bar" , gourmet risottos , duck ,chicken curry and roularde,  white fish as well as vegetarian and Caribbean specialities.
Open 6 nights a week for dinner - [ closed Wednesdays in the summer season after  April 1st ]  from 7.00pm.  Breakfast from Mon - Saturday 8.00 - 10.00 am
NEW 2019 - 2020 SEASON  MENU  here

New , The Sugar Mill Dinner  a Table De Hote dinner at the attractive price of   $49 for 3 courses  See initial menu here 
Book on line below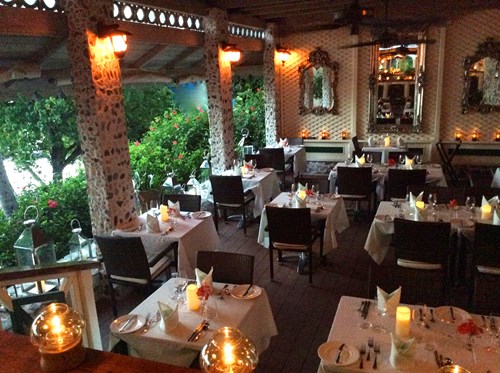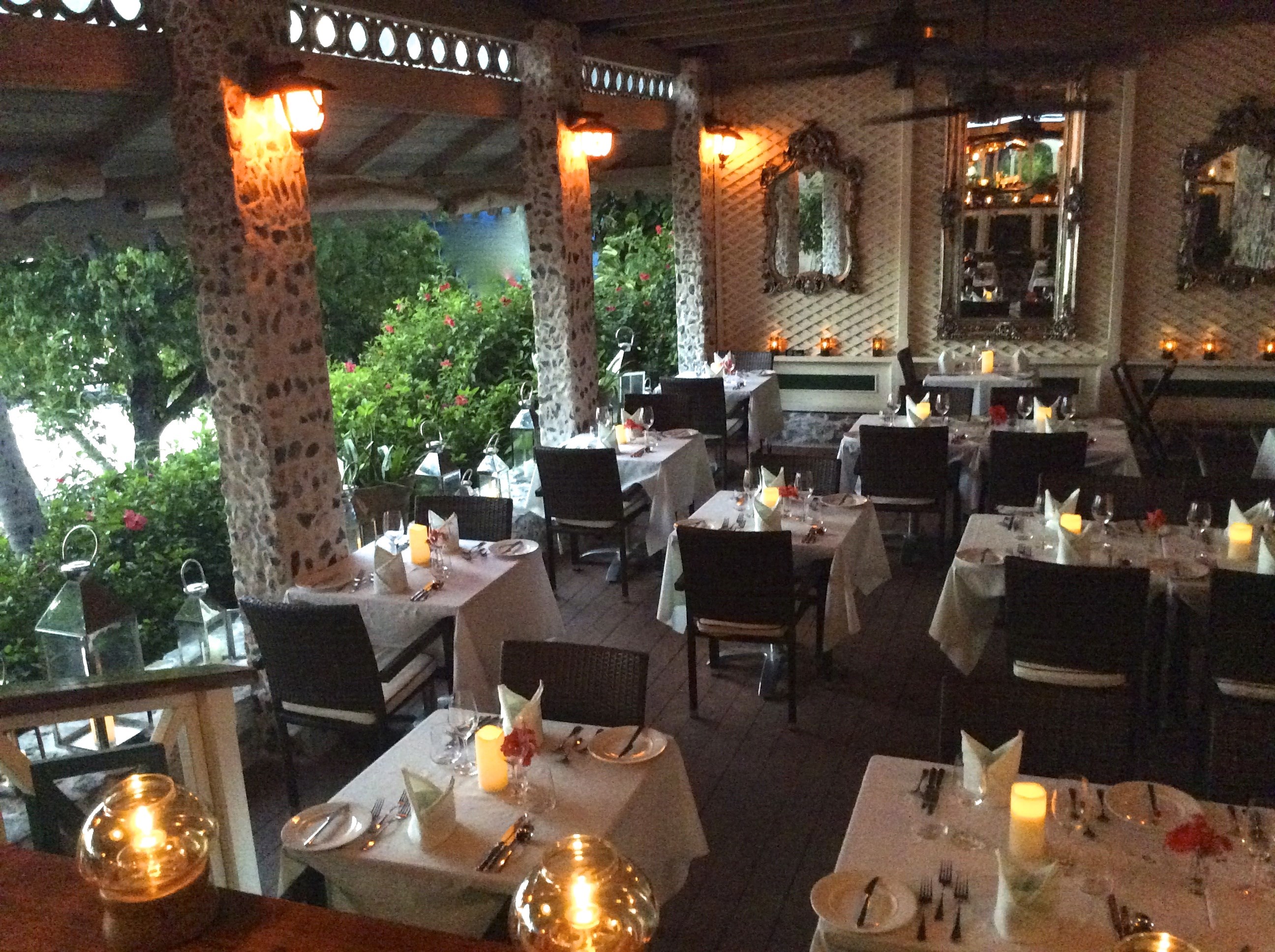 Tramonti - a Mediterranean themed casual restaurant right on the water - pastas, salads, mussels, unique squizzas.

Open for lunch Mon - Saturday 12.00pm - 2.30pm
Menu here

Sunday Brunch from 9.30am - 4.00pm
See menu here  Lunch items also available on Sunday  here
Dinner Weds - Saturday 6.30pm onwards
Reservations not necessary 
 MENU here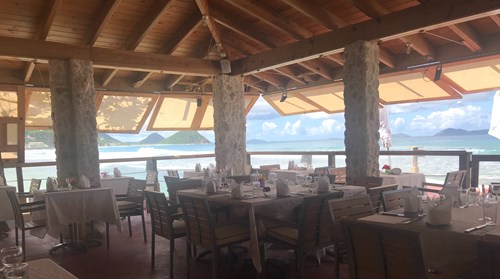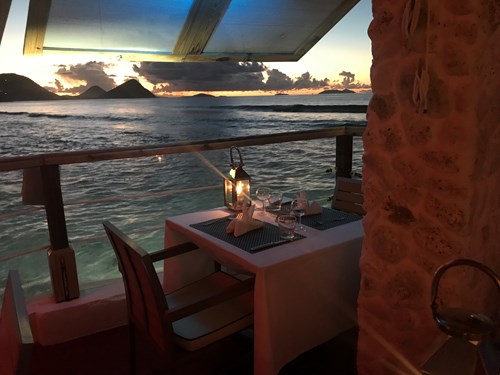 Functions
We offer fixed price menus for functions see examples here
We have three bars
The  Pavilions Bar alongside the Sugar Mill Restaurant
Fabulous cocktails, the finest wines, liqueurs, beers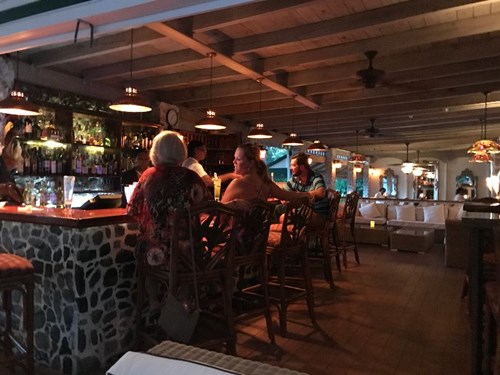 The Irma Bar at Tramonti 
Sit round bar right on the water and the beach
Happy hour 5-6pm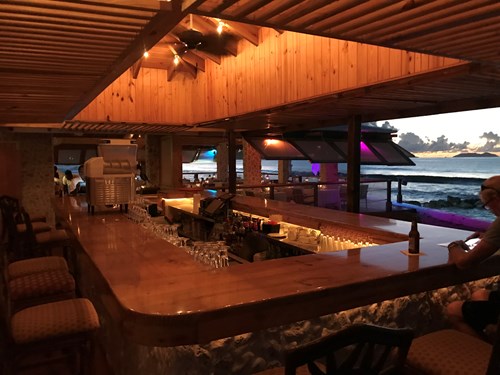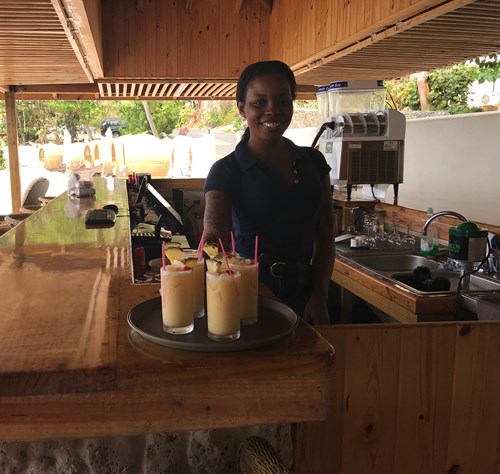 The Pool Bar 
Beside our circular swimming pool is the Pool Bar 
An honor bar in the daytime it is used for special events in the evening like our Managers Cocktail Party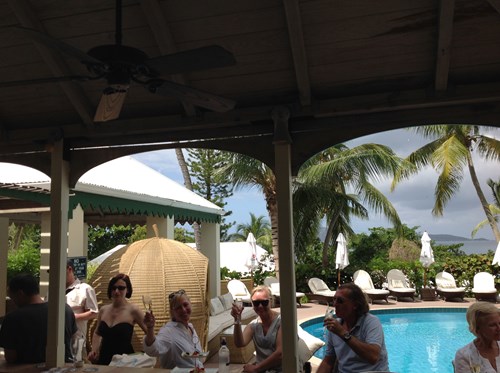 AUTHENTIC MEDITERRANEAN STYLE FOOD IN A UNIQUE SEA SIDE SETTING at TRAMONTI
Stunning sea and sunset views - Tramonti is right on the water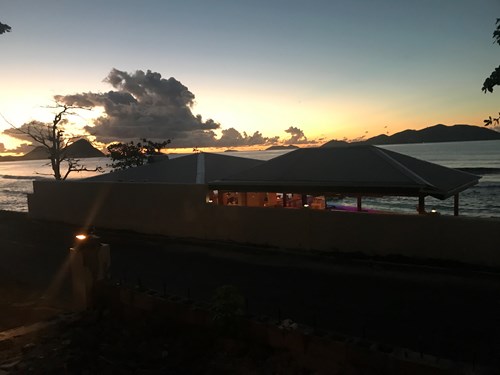 Amazing sunsets -Tramonti is the Italian word for sunsets
Wonderful candle lit evening ambiance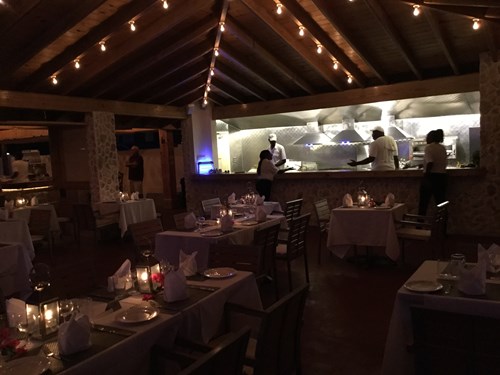 Watch your food being prepared in the all stainless open kitchen  
FULLY OPEN TO NON HOTEL RESIDENTS
NO RESERVATIONS NECESSARY
Mon -and Tuesday - Lunch 12-2.30  Weds through  Saturday -  lunch 12-2.30  Dinner 6pm - 9.30 pm    / Sunday Brunch - 9.30am - 4.00pm
FOR  SUPERB FOOD FROM THE SUGAR MILLS FAMOUS CHEFS 
See menu here

 Fabulous Fine dining at The Sugar Mill Restaurant 
The Sugar Mill Restaurant is set in the Rum House of the old Sugar Mill Estate.Two dining rooms make up the Sugar Mill Restaurant - the Terrace and the Rum House itself.  Once sugar cane was boiled here to make rum, and pieces of the old equipment and iron boiling pots are still on view. But now the emphasis is on memorable food, fine wine and a wonderful ambiance. At solid polished redwood tables decorated with the finest modern English china and surrounded by the 400 year old stone walls, lit mainly by candles, you will be served by our friendly and knowledgeable staff, many of whom have been here for many years. Local produce features strongly on our menus. Lobsters, conch and local fresh caught fish are complimented by succulent steaks, crispy pork bellies and coconut encrusted chicken breast. Not forgetting some spicy Caribbean specialities and a vegetarian selection.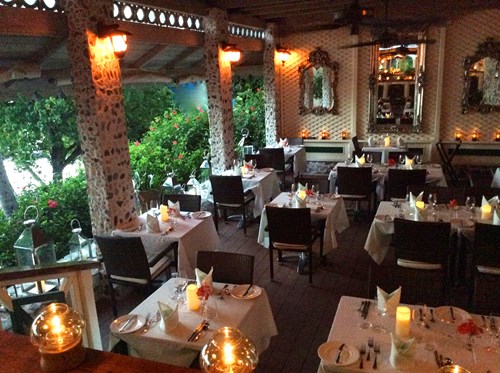 The Terrace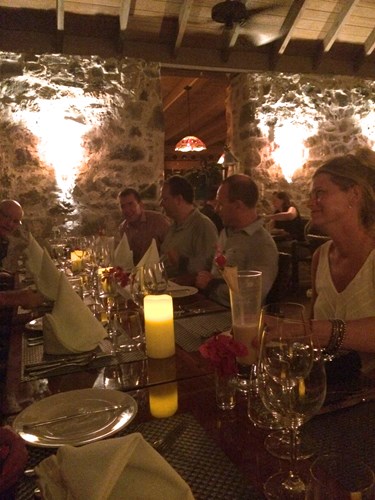 Dining within the 400 year old stone walls of the Rum House - fabulous ambiance and great food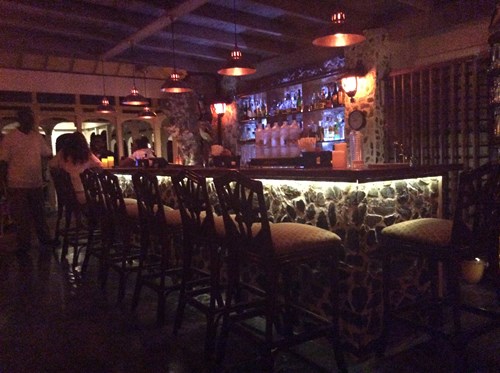 The Bar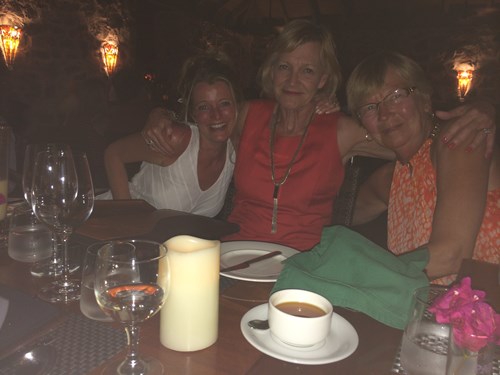 New friends made at the Rum House
Our current menu is here

Our current wine list is here  
NOTE TO POTENTIAL DINERS :  The Sugar Mill is a fine dining restaurant where all food is cooked fresh to your order. We are uncompromising in our use of freshly cooked food and we do not pre cook, reheat or microwave dishes.
You should count on 2 hours or more for a 3 or 4 course dinner at the Sugar Mill.
A 3 course meal at the Sugar Mill with wine is typically more than $60  per person. 
We have a $35 per person minimum for dinner.
You can book a table at the Sugar Mill Restaurant below
The Terrace Breakfast
Part of the Rum House, the Terrace lets you dine overlooking the beach and sea.  Breakfast is  served on the Terrace overlooking the beach and the Caribbean sea from 8-10.00 am Mon-
Sat. On Sundays we serve Brunch at the Beach Restaurant from 9.00am until 3.00pm.
* Note: Sugar Mill 5 Star All inclusive guests may eat and drink at any of our restaurants. See Sugar Mill 5 Star all Inclusive details here
Dinner bookings are advised for the Sugar Mill Restaurant for non hotel guests. Book on line or on your mobile device at www.sugarmillhotel.com
Groups may be able to book the Terrace on certain dates.
No reservation necessary for Tramonti
 SUGAR MILL RESTAURANT IS CLOSED ON WEDNESDAYS FROM APRIL 1ST UNTIL JULY 31ST OPEN EVERY OTHER NIGHT
TRAMONTI IS OPEN FOR DINNER ON WEDNESDAYS THURSDAYS FRIDAYS AND SATURDAYS