Bookings
TO CHECK ROOM AVAILABILITY GO  TO THE BOTTOM OF THIS PAGE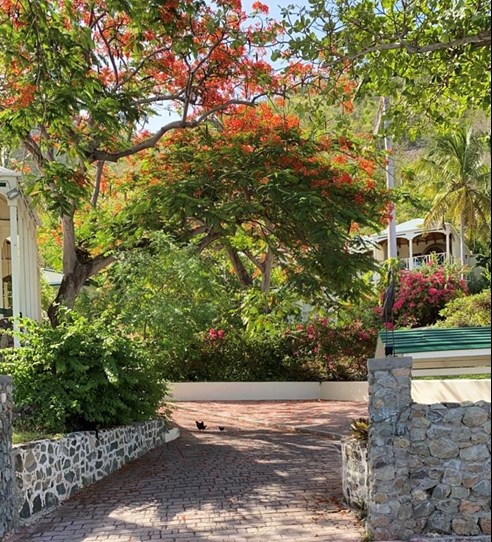 Come on in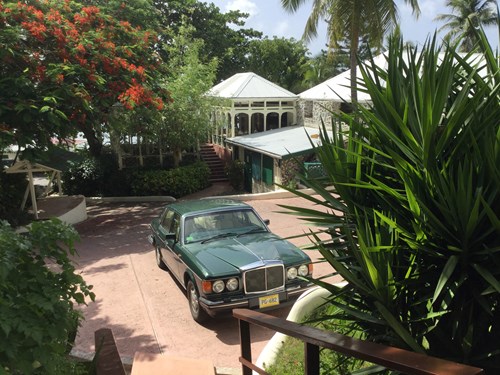 Flowers bloom all year round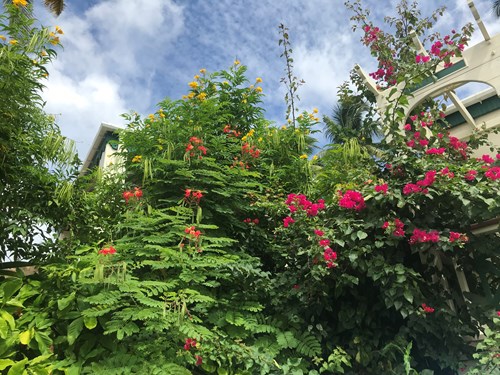 Our central swimming pool set amongst the palm trees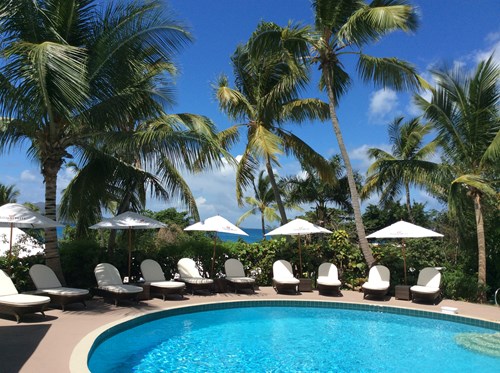 The Rooms are set in different buildings around the beautiful grounds that lie beside the sea.
More like a village than a block hotel
Every room has its own front door. There are no corridors or common entrances.
Its your own private space.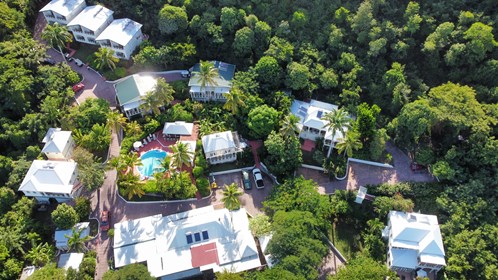 History is everywhere, remains of the engine that ran the crushing machines that last made
rum here  100 years ago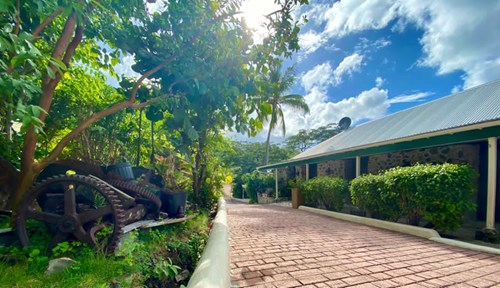 Staying
We have two different ways you can stay at the Sugar Mill
All inclusive or room and breakfast
Five star all inclusive with all food and drinks and  transfers and excursions included  is available for full weeks or multiples thereof only. 
Room and Breakfast includes room, breakfast and service. Subject to 15% government taxes and charges.
Room and breakfast is available for any number of nights.
 If you want to have all your food and drinks included  for stays of less than a week you can add Daily All inclusive to the room and breakfast rate. This gives you inclusive food and drinks but does not include transfers or excursions
All inclusive for any number of days
You can add a second booking of additional Room and Breakfast days to an all inclusive week or two weeks then add daily all inclusive to the room and breakfast rate. That way you can have an all inclusive vacation for any number of days.
 A word about prices
Wherever possible we quote the price you will pay , the only addition being the 15%  government taxes and charges on the room and breakfast rate.All inclusive , like the name says, includes the taxes and charges.
Unlike some BVI hotels we do not add further charges such as resort fees, service fees etc. We also provide everything you need in your room including unlimited bottled water , tea, coffee, biscuits [ cookies] and a full cooked breakfast on the beach without further charge. If comparing prices check what other hotels include or charge extra for, these can be considerable amounts.
 

If we used one word to describe our rooms it would be ROMANTIC
Room types
We  have Deluxe,   Prestige,  Signature, Caribbean Cabin Suites and The Honeymoon Cottage. Prices vary for each type and shown further down the page 
 The rooms  are in several different buildings set around the estate , the hotel is like a small seaside village. there are 24 rooms in total.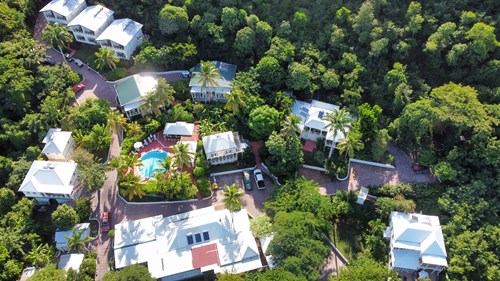 Our Buildings
Our hotel rooms are  located in 8  different buildings set in our tropical gardens
No building has more than 4 rooms
All rooms have their own front door - there are no corridors
All balconies are private and are not overlooked+
 All rooms face the sea and have sea views. 
 THE OUTLOOK 
The Outlook is set at the higher level in the grounds and all rooms have panoramic sea views
 There are  6 Deluxe rooms on the lower floor and 6  Tiffany Prestige Rooms on the upper floor.   The 12 rooms are in  3 adjacent buildings The upper floor Prestige rooms can connect through a balcony door to form a two room suite. All beds are King beds. Some rooms can be twin. 
The rooms are larger than average hotel rooms  [ an average hotel  room elsewhere is 220 sq feet] with 345 sq feet sq feet of space plus a balcony of 84 sq feet with two cushioned chairs and a small table 
 The Outlook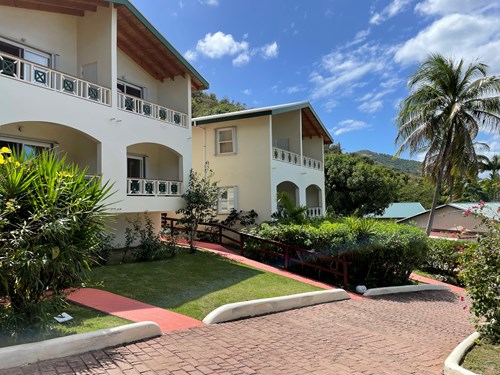 Below an Upstairs Tiffany  Prestige in the Outlook.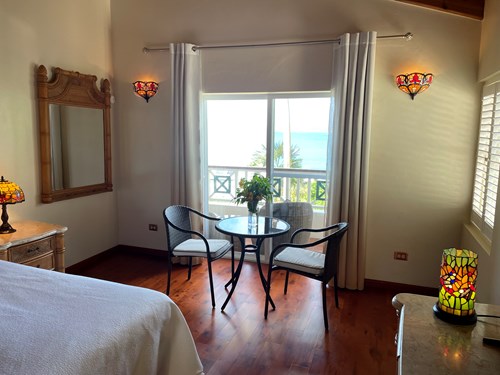 All have panoramic sea views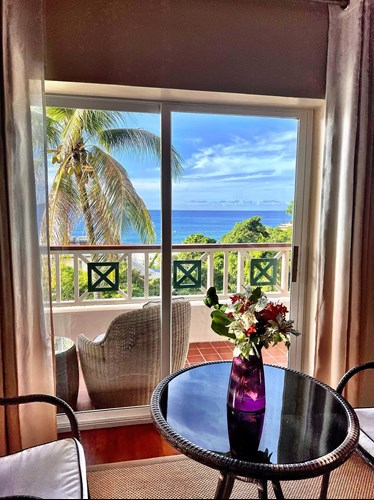 Below a De Luxe , lower floor in the Outlook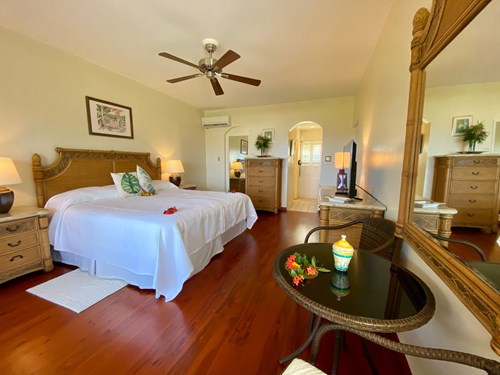 Great sea views from the DeLuxe Rooms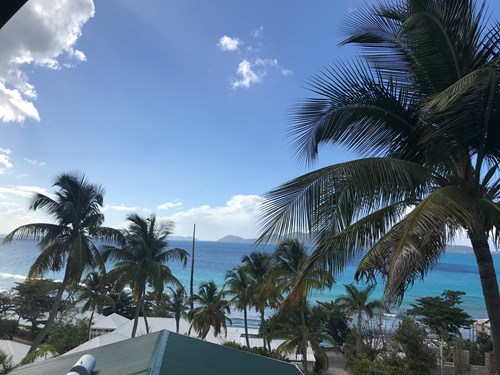 The Caribbean Cabin Suites [formerly Poolside Mini Suites.]
 These rooms are  our luxury take on local Caribbean style homes   A lounge with kitchen, a separate  king bedroom,  luxury bathroom with an  "under the stars " shower. [Protected from insect intrusion by a fine overhead net]. and most importantly  a private balcony  with tables and chairs and 2 x luxury loungers where you can pursue the local hobby of "lymin" .More like your home away from home than a hotel room. Complete with Espresso machine, ice maker and a fridge as well as the other luxury features of Sugar Mill rooms.  
There are four rooms in two different buildings, all on the same level.  All have King beds. One of them can be converted to twin beds. Each room has a convertible sofa bed  in the lounge area. This is suitable for one adult or two smaller children. They are located just above the swimming pool.
 These are suites with over 400 sq feet of internal space plus 160 sq feet of balcony.
On the left below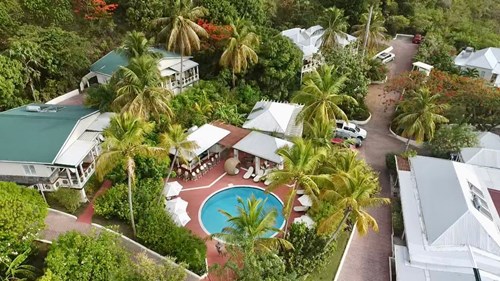 Set among tropical plants 
 Lymin center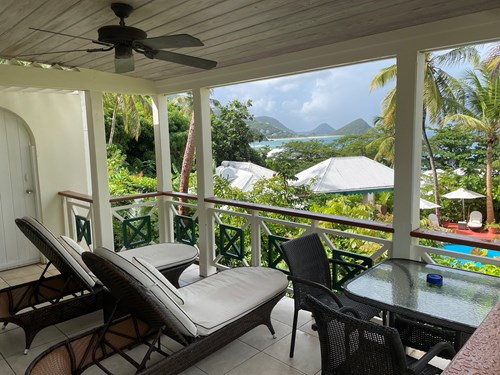 Wonderful sunset views from the Caribbean Cabin suites balconies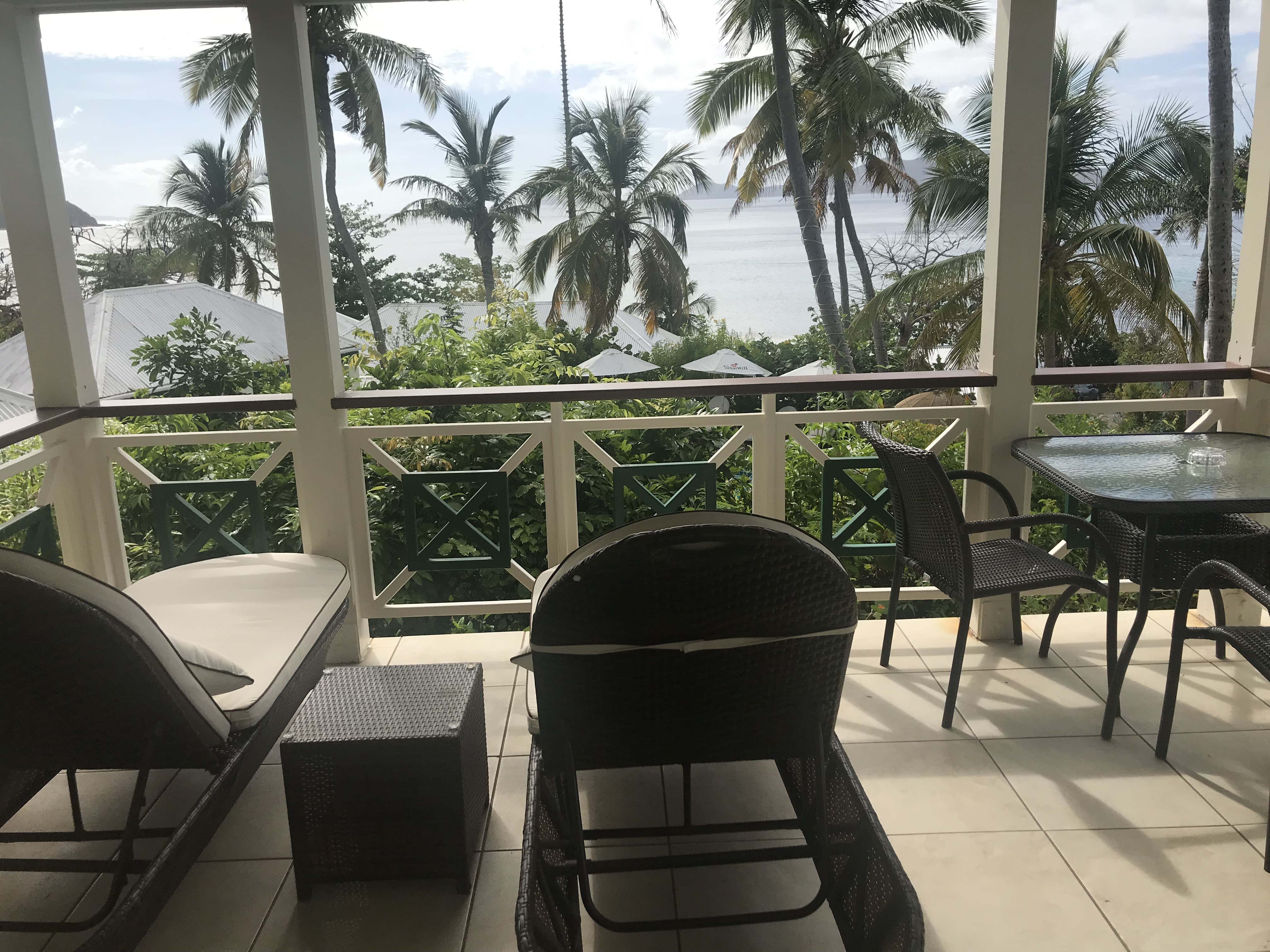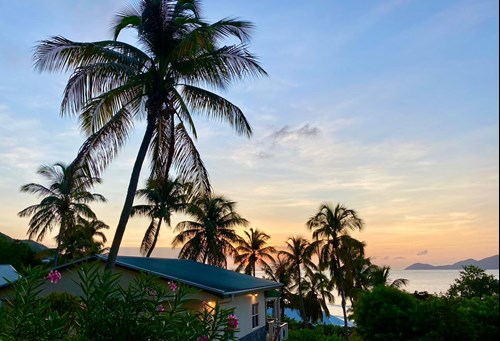 The lounge area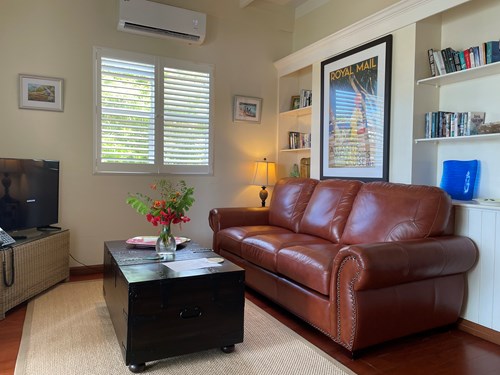 Bedroom with full King Bed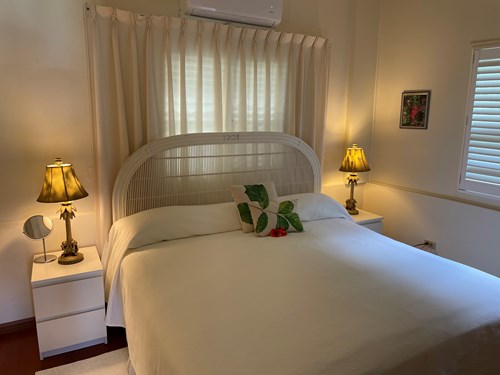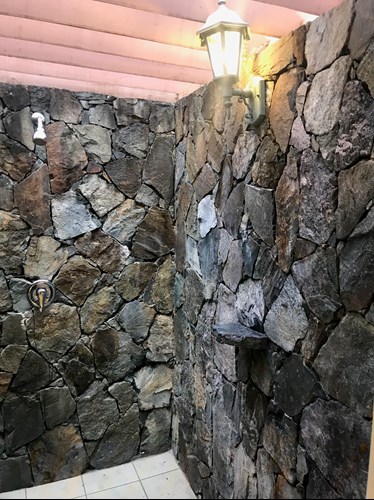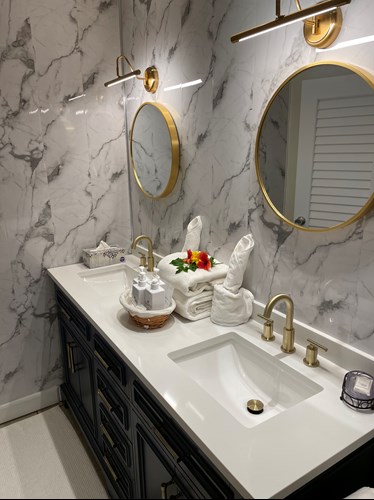 Outdoor shower and bathroom 
THE HONEYMOON COTTAGE
The Honeymoon Cottage  A single suite in its own building. Lounge and wet sink area , separate bedroom area with 4 poster Queen  bed, Bathroom with "under the stars" outside stone shower. Balcony area with table and chairs with second balcony area with 2 x luxury loungers and table and chairs and umbrella.
 A large open plan suite with over 400 sq feet of floor space plus 390 sq feet of balconies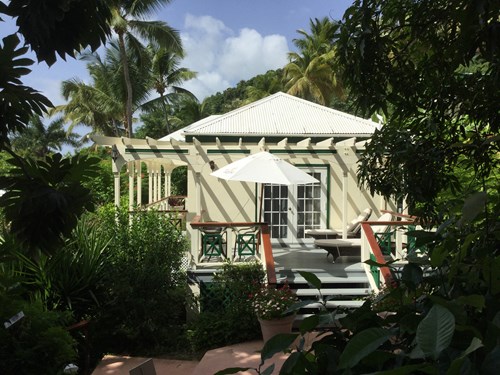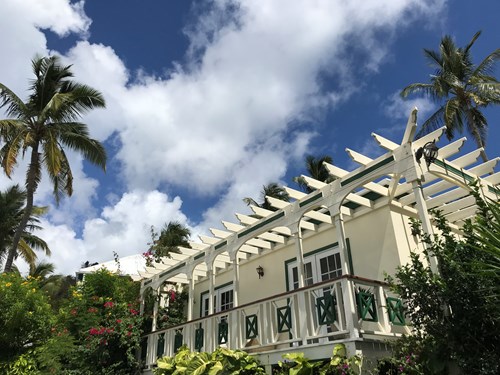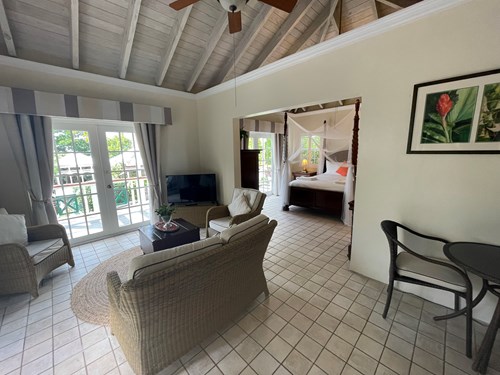 THE OWNERS VILLA 
THE OWNERS VILLA  The Villa has three Signature rooms. All have King beds and 101 can be converted to twin. . The Villa Signature room 110 has a bathtub. 101 has an outside under the stars shower and the only private on balcony Apple cabana. All have large balconies with panoramic sea views. There is a paved/decked area to the rear with loungers and tables and chairs. A two room Luxury suite may be made by combining 2 Signature Room 110 and 101 within the Villa. 
The rooms in the Owners Villa are named after the spectacular trees that grow outside them.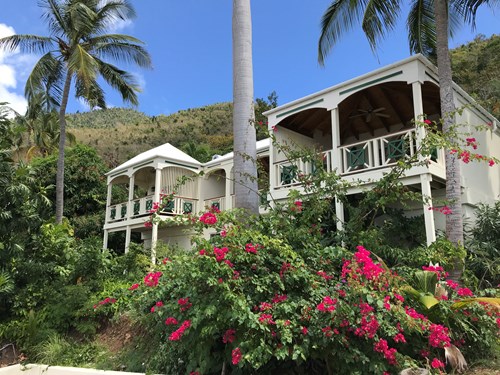 Room 101 The Royal Palm , a Signature room - a spacious room with 315 square
feet of space and the largest balcony in the hotel at over 200 sq feet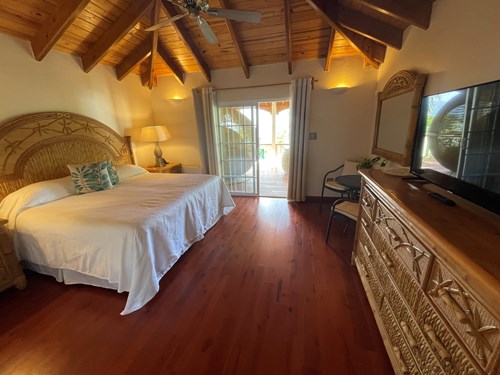 Kitchen area 101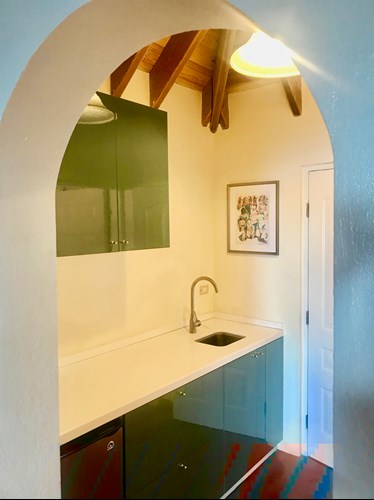 The Balcony at 101,  complete with its own apple cabana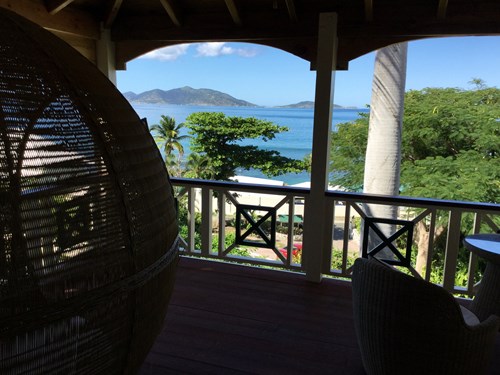 Your own apple cabana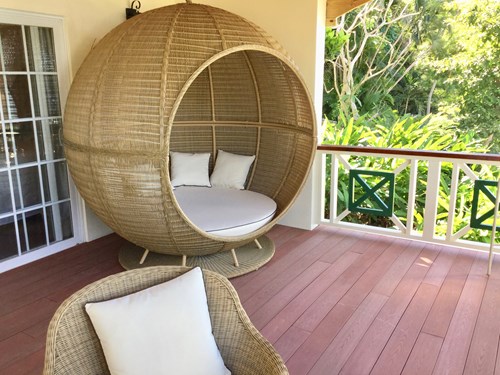 Room 110, The Flamboyant tree a  Signature room
A large open suite type room of over 400 sq feet plus a large terrace of 220 sq feet
with personal loungers and table and chairs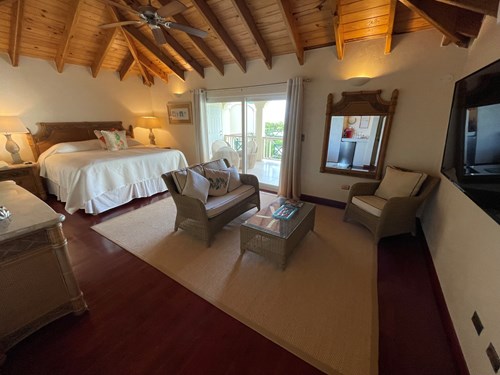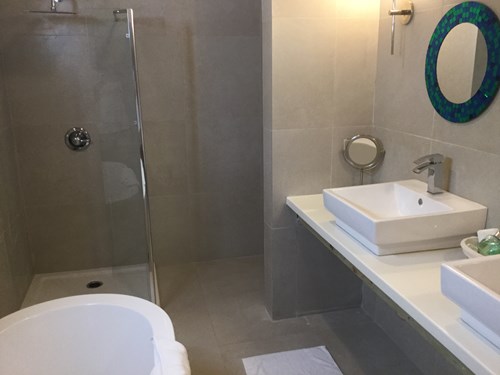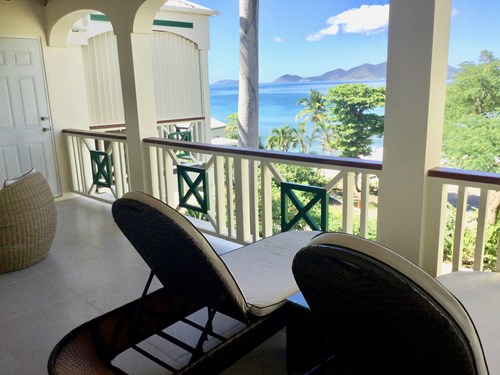 THE PLANTATION HOUSE
 The Plantation House is close to the sea and the sound of surf can usually be heard. The
Plantation House has a  Signature room and a Prestige Room on each of its two floors.
These can be combined  to form a two room Luxury Suite that occupies the whole floor or
can be booked individually .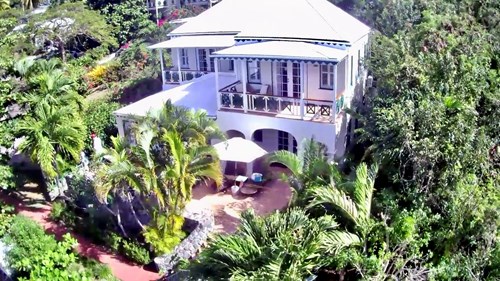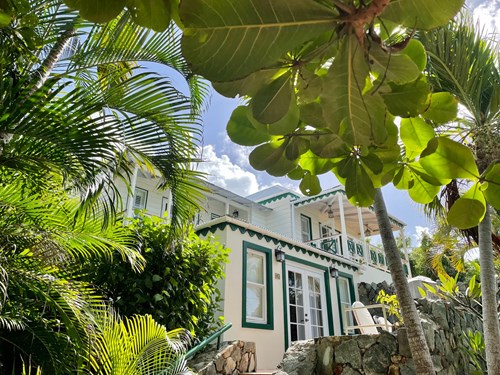 Room 144 - Prestige - lower floor
144  is a larger than average room on the lower floor with around 400 sq feet of space and
a large terrace of over 320 sq feet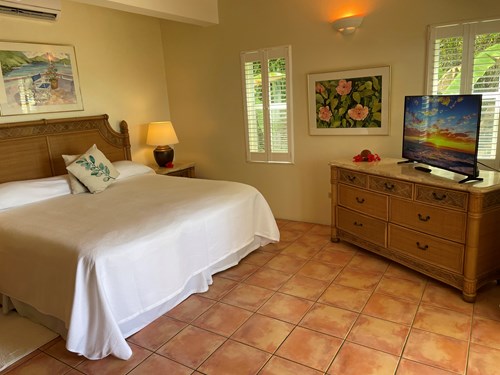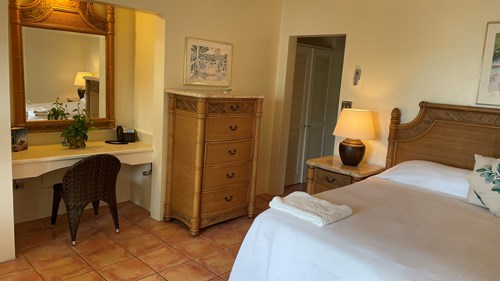 Terrace 144 - the largest terrace on the property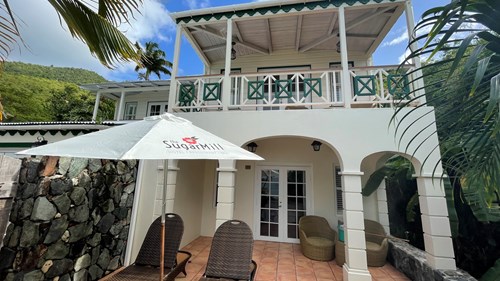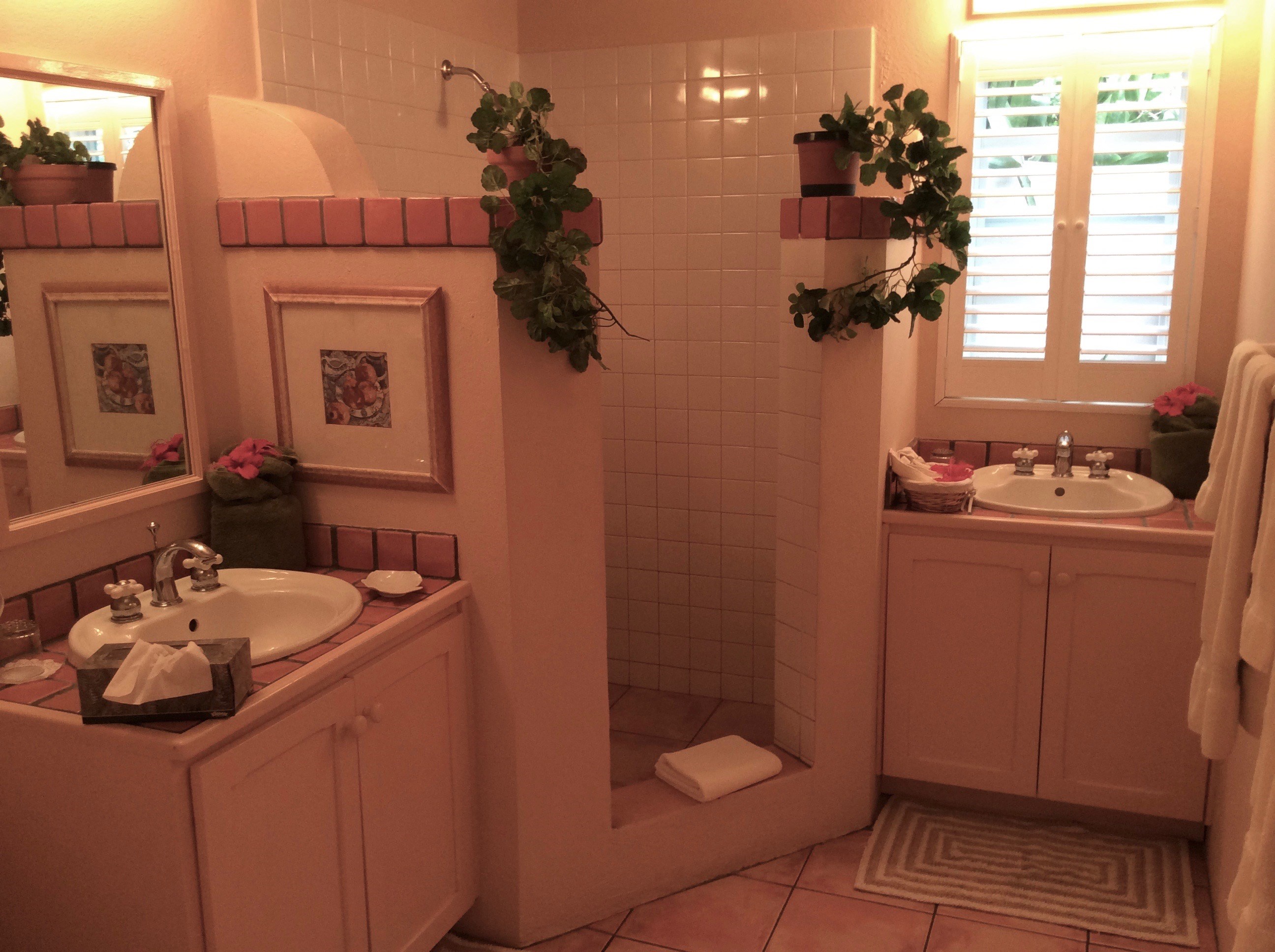 Room 143 Signature Lower floor 
A large open plan suite with 480 sq feet of space plus a terrace of 160 sq feet. 
143 and 144 can be combined into a two bedroom suite that joins both  internally and on
the balcony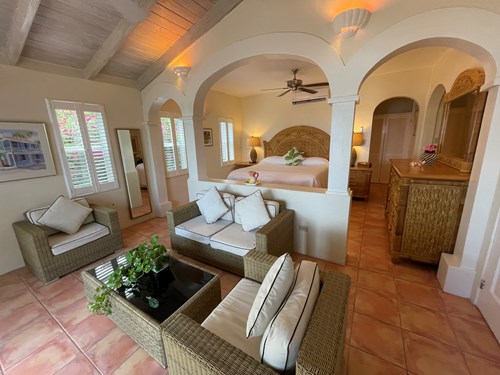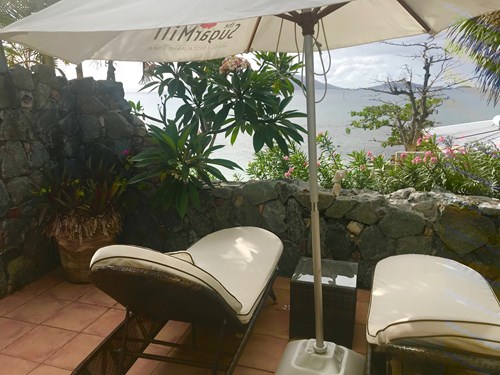 Above - the terrace at 143
 Room 141- a Prestige room in the Plantation House upper floor with 360 sq
feet of space and a balcony of 84 sq feet.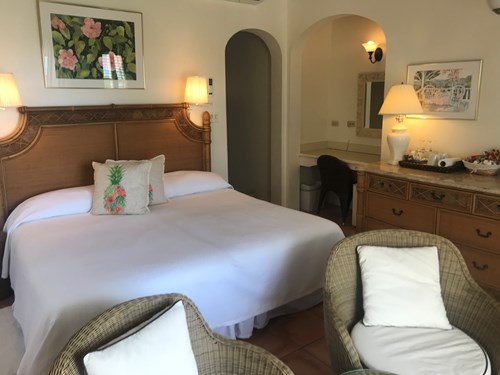 Below , the view from 141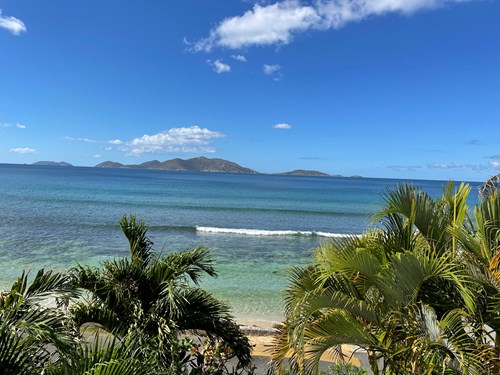 Room 142 a signature room in the Plantation house - upper floor
Large open suite room with 465 sq feet of apace and a balcony of 104 sq feet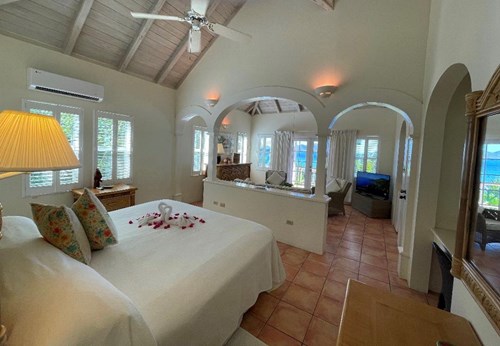 Lounge area 142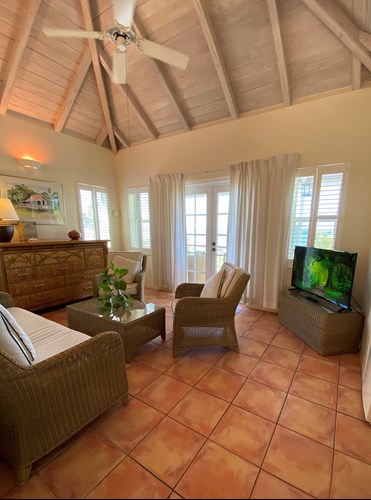 View from 142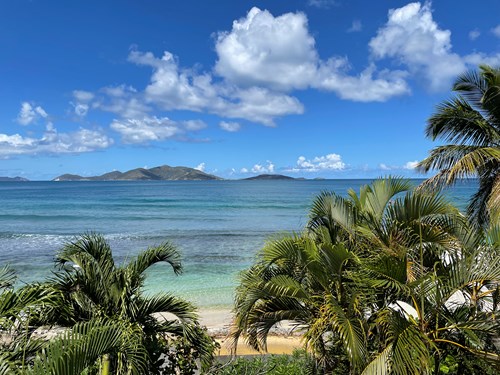 141 and 142 can be combined  to form a two room Signature /Prestige  suite 
Room amenities
Regardless of room type  -
All rooms have sea views.
All rooms have been recently refurbished.  We keep the rooms as immaculate as possible and they undergo constant maintenance.
All rooms are ensuite and have air conditioning, overhead fans, balconies with furniture, fridges, in room  tea , chocolate and coffee, biscuits [cookies]  free bottled water, safes, wardrobes, chests of drawers with lots of storage, smart flat screen TV with internet connection, free wi fi, irons and boards, hairdryers, top quality soaps and bathroom lotions, dressing gowns [ robes] and slippers, extra pillows  and anything else we can think of to make your stay as comfortable as possible.
 Two room Suites
can be made from
2 x Tiffany Prestige in the Outlook  - room 111 plus room 112, or room 121 plus room 122, or room 131 plus room 132
2 x Caribbean Cabin Suites 103 plus 104 , or 105 plus 106
1 x Signature plus 1 x Prestige in the Plantation House 142 plus 141, or 143 plus 144
2 x Signature rooms in the Owners Villa , 100 plus 101
 For suite prices add the prices of the two room types together. 
CHECK AVAILABILITY or BOOK HERE 
 Note that rates vary according to season.
See rate sheet here

Enter your dates and your choice  of stay type - room and breakfast or all inclusive - remember 5 star all inclusive is for full weeks only. if you try to book 5 star all inclusive for less than 1 week the system will say there are no rooms available. 
if you want all inclusive for a number of days less than a week  chose rooms and breakfast then you can add daily all inclusive during the booking process.
The system will show you which rooms are available and the cost of your stay.
Second all inclusive weeks are offered at 10% discount. The booking system will automatically do that when you book 5 star all-inclusive FOR TWO WEEKS. 
NOTES ABOUT BOOKINGS
SEE BOOKING TERMS AND CONDITIONS here
PLEASE NOTE THAT CANCELLATION MUST BE MADE BY EMAIL TO info@sugarmillhotel.com
 NOTE : We strongly urge all guests to make sure they have insurance cover in the event they have to cancel their visit.
 50% of your reservation cost will be automatically taken by the system at time of booking. The balance will be collected shortly before you arrive. Should your card be declined it is almost certainly for your providers "security " reasons. Please contact your provider and rebook.
 WE TAKE VISA AND MASTERCARD and NEW AMEX - WE DO NOT TAKE DINERS OR DISCOVERY
Note : the first nights stay is payable for all cancelled reservations.
 IF BOOKING A POOLSIDE SUITE PLEASE SPECIFY IF YOU WISH TO USE  THE CONVERTIBLE SOFAS  IN THE LOUNGE FOR AN ADDITIONAL 1 OR 2 PERSONS - YOU WILL SEE A MESSAGE ABOUT THAT WHEN YOU BOOK THIS TYPE OF ROOM - IF ONLY TWO ARE STAYING SAY 0 
  THANK YOU AND WE LOOK FORWARD TO WELCOMING YOU TO THE SUGAR MILL