Five Star All Inclusive
Weekly all inclusive 
Our  7 or 14 night all inclusive vacation packages are now better than ever with the addition of a whole new beach restaurant Tramonti and the refurbished Sugar Mill Restaurant giving guests even more fine dining choices.
The Sugar Mill is unique in being a luxury highly rated boutique hotel set on a beautiful tropical island, that has a five star restaurant and a first class waterside restaurant right on the premises. Enjoy it all to the full with Sugar Mill All Inclusive Vacations. When you leave home on vacation the last thing you want to worry about is money. Or having to find and cook dinner. Trail out to unfamiliar stores and so on. Sugar Mill All Inclusive takes care of everything. And we mean ALL inclusive and everything.
Private transfers - to and from the Beef Island Airport or the ferry dock. You will be met by your personal hotel driver and taken directly to the hotel.
Luxury Accommodation - in our newly refurbished, totally equipped, air conditioned rooms. All with balconies or private terraces and sea views. Some with showers under the stars.
A  room in the The Outlook. panoramic sea views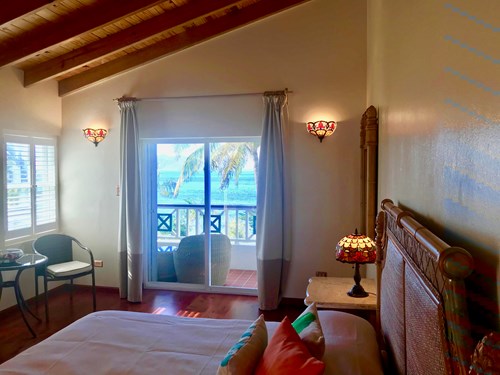 Below The Owners Villa - three fabulous signature rooms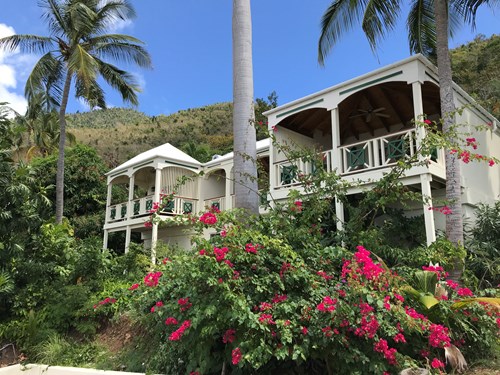 Below - your very own private apple cabana on the terrace of 101 in the Owners Villa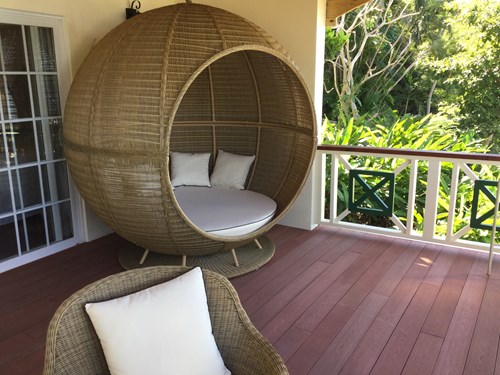 Below- Room 110 in the Owners Villa - it can combine with 101 to make a fabulous two room suite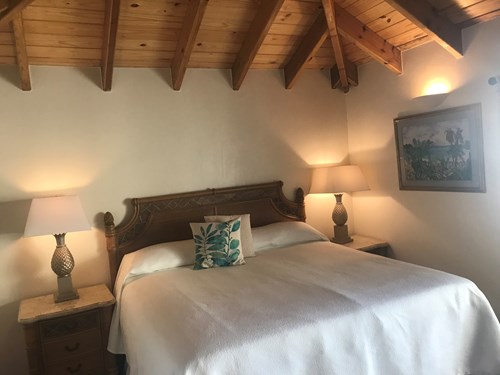 Below - relax and enjoy the view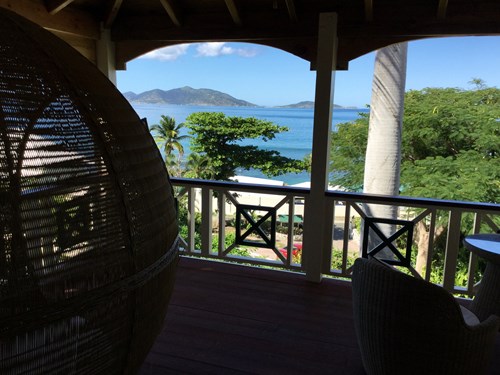 below -Prestige Room 144 in the  Plantation House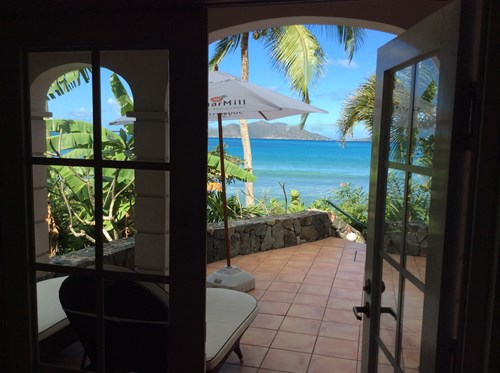 see more room details here
and A WONDERFUL GOURMET CULINARY EXPERIENCE - breakfast, lunch and dinner [and occasionally even afternoon tea] , with your choice of any menu item at either of our two restaurants. Lobster, succulent fillet mignon, fresh island seafood, our chefs fabulous creations, our new different, exciting European dishes, have what you like. Feel like fun dining at the waters edge , its included. Want the finest cuisine in the 400 year old candle lit Sugar Mill or on the sea view terrace, the choice is yours. And we never ever offer you buffet meals. All our food including breakfast is freshly cooked to your order and served at your table. Check the rave reviews of our restaurants on the internet and check out the current all inclusive menu. To our all inclusive guests the prices really are zero.
Below- the Terrace at the Sugar Mill Restaurant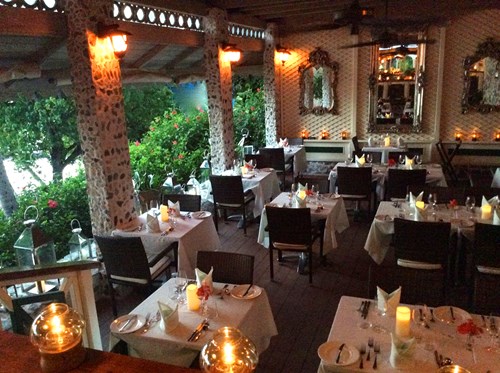 And Tramonti - our right on the water Mediterranean Restaurant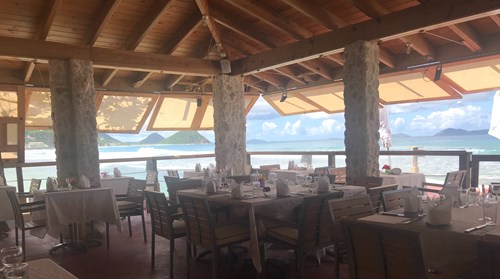 Exotic Drinks - All your cocktails, beers and dinner wines from our House and Sommeliers Choice list are at no extra charge. Famous brands like Tanqueray, Johnnie Walker, Smirnoff, Jack Daniels etc., and all our fabulous cocktails like Painkillers, Yellow Birds and Pina Colladas. Come and have pre dinner cocktails in our Pavillions Bar or beach side Tramonti  where you can also watch the amazing sunset while you have another cocktail, it's included and it's free. Even house champagne and/or fine Prosecco is included. See our wine list. Help yourself to free drinks from our exclusive, guests only, pool side bar as you laze the day away or maybe challenge other guests to chess or scrabble in the shade of the poolside Cabana. Or maybe raise the service flag on your Sugar Mill beach lounger and enjoy personal service from the smiling staff on our secluded beach. Lie back and enjoy Pina Coladas while you watch the Pelicans play and the sail boats pass by.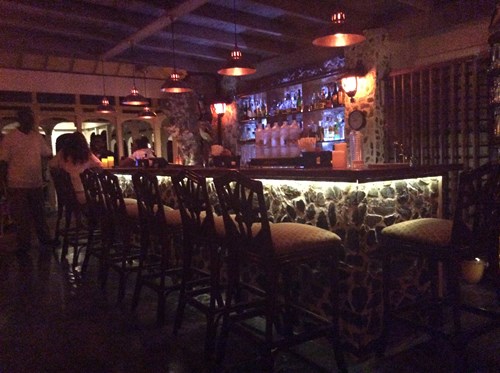 Cocktail Party - Meet the staff and your fellow guests at our weekly pool side pre dinner get together complete with delicious appetisers.
Your room fridge will be stocked with your favourite beers, wines and sodas. Water too. Its all included.
Luxury Included Tours - See the beautiful BVI with our included tours, exclusively for Sugar Mill guests.
The Sugar Mill around the Island tour. Sit and back and enjoy a days guided tour around surprising Tortola in one of our picturesque open back Safari taxis or private SUV's. Visit beautiful Sopers Hole and on to our capital Road Town for shopping. Then we head through the vibrant East End to one of our magnificent hidden beaches for a champagne picnic lunch prepared by our chefs. There is time after for a swim or stretching out on the sand. Then we head back over the spectacular Ridge Road with superb views over both sides of our wondrous Island and the outer Islands. In the afternoon we visit Cane Garden Bay where you can admire the beach and it's colourful bars or maybe visit the glass works or the rum distillery. Relax, let some else do the driving and be back in time for another velvet evening at the wonderful Sugar Mill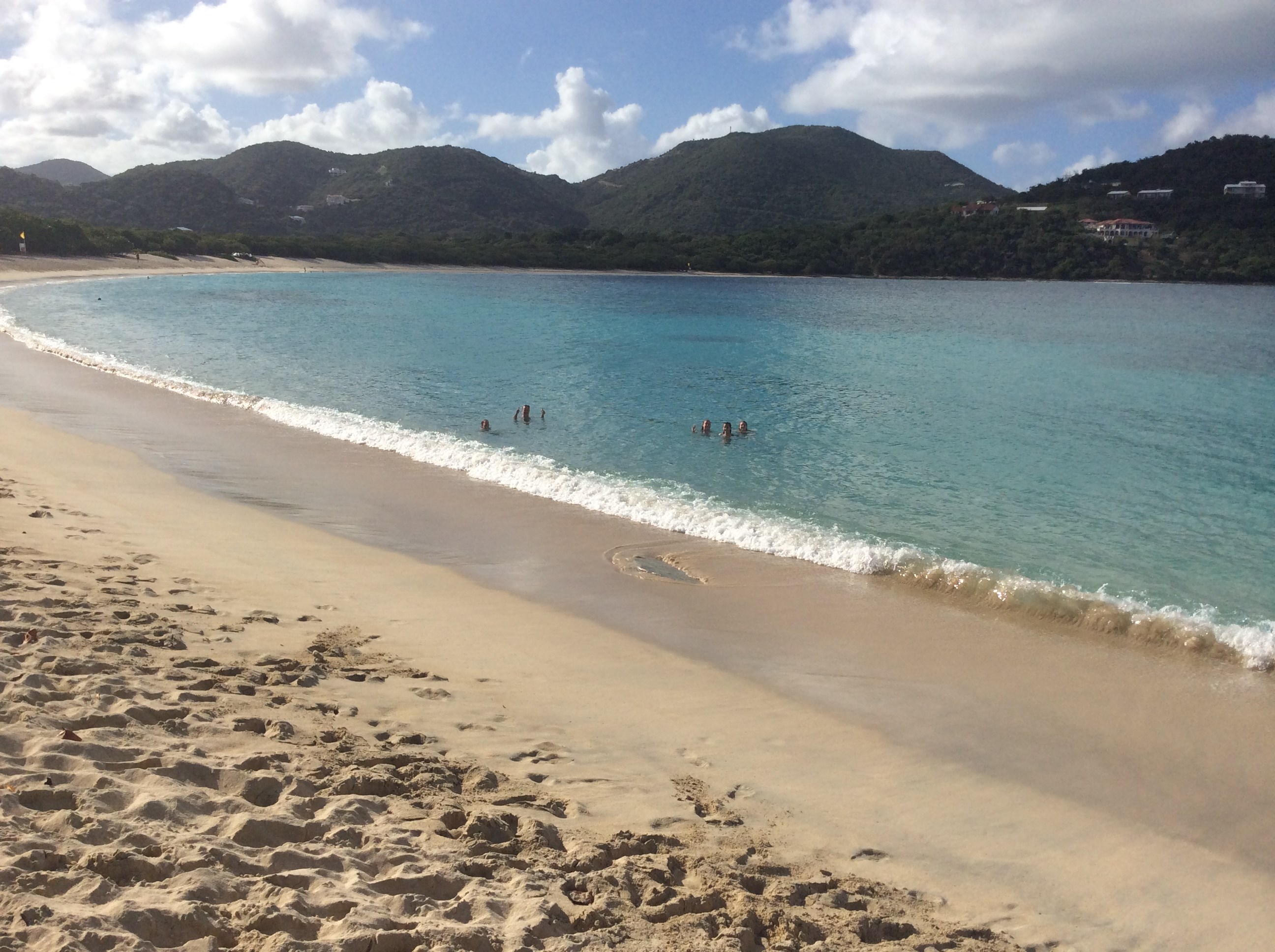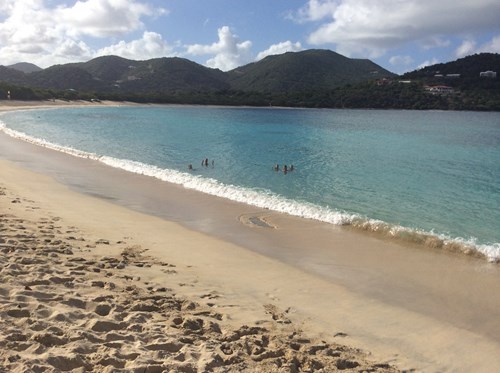 A beach to ourselves on the Round the Island tour 
 A Day on the Water : Come on an outer island tour. Exclusively for Sugar Mill guests. Itinerary varies with the weather but typically visiting some of  Normans Island for some of the BVI's best snorkelling at the Caves, the  Bight, the scene of Robert Louis Stephensons Treasure Island Or we make for Jost Van Dyke by way of Steel Point, Sandy Cay and Sandy Spit where we stop for another swim or maybe just another beer. Passing Foxy's and Great Harbour we round off our trip at stunning White Bay and the world famous Soggy Dollar Bar. Swim ashore for their (in)famous Painkillers.  Or sometimes we do JVD first and Norman in the afternoon. Then we head home for another velvet evening at the wonderful Sugar Mill. From time to time we visit instead the west coast  and the North Sound  on Virgin Gorda, checking out the famous Baths and the various billionaires private islands. Later we snorkel and swim at Monkey Point where the largest swarms of fish in the BVI are to be found.
OR in place of a tour
A Sugar Mill Signature Massage or Swedish massage for two at our SPA 
A NEW HOTEL BOAT IS COMING SOON
Then enjoy your dinner at the "Captains Table " with the rest of your crew and fellow travellers from the day on the water. Enjoy  some of our Sommeliers Choice wine selections, sometimes followed by local entertainment or a film show under the stars before your last relaxing drink. Then sleep in our comfy beds to the sound of the waves rolling onto our beach. 
Other days we head out fishing, sightseeing or just as we call it here "Limin". 
No, it's not just a dream, it's reality at the Sugar Mill.
Gratuities and Taxes are included. Absolutely nothing else to pay. And book a second all inclusive week and enjoy a further discount of 10%.
This is the five or even six star all inclusive that has previously only been available on upscale cruising yachts. And remember this is not the usual big impersonal all inclusive resort, just 24 privileged couples can enjoy the renowned, exclusive, service at Sugar Mill at any one time.
And as an introductory offer, all from as little as $4,595 per couple first week. CAN ONLY BE BOOKED THROUGH THE SUGAR MILL WEB SITE  or by phone or email to the hotel. Book a second week and get a further 10% off the already discounted price.
Check availability here