News & Offers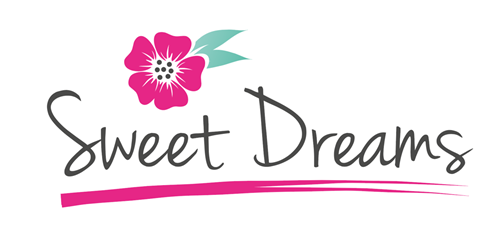 is the name of our new boat - a Leopard 51 power cat
4 ensuite air conditioned cabins with a crew of 2 and all the luxuries and gourmet food of Sugar Mill
Cruise the BVI for 3 days and nights in luxury as part of your Sugar Mill experience
More details and dates coming soon
https://www.youtube.com/watch?v=vlpAm3I1HhQ
Direct flights from Miami to Tortola starting June 2023 by American Airlines
Flight time is 3 hours in an Embraer 175 jet with 76 passengers 
Comfortable 4 across seating in coach, 3 across in business
Departure from Miami 10.30 am , from Tortola 2.30 pm
Check out www.aa.com for details and what seems like reasonable fares
More information on the villas
We have begun construction of villa number 1 which will be the owners house.
See layouts of our initial villa  GROUND FLOOR here

                                            UPPER FLOOR    here
Remember we can alter the layout to suit your needs, more or fewer bedrooms , different use rooms etc 
 These  beautiful homes set behind the hotel with fabulous sea views will be for sale. The homes are  within  the secure  hotel grounds.  Villa owners  will have priority access to all of the hotels facilities. Owners may live permanently in their homes or the Sugar Mill will manage lettings for any periods of time the owners desire. Various layouts and sizes are available. Room layouts and fittings can be varied to suit your needs.   An 800 square foot   open lounge/ kitchen with vaulted ceiling,   3 en suite bedrooms with 30 foot infinity pool and  personal elevator as shown from around $2 million. There are no income taxes in the BVI and property taxes are minimal , typically less than $500 per year. The homes are eco friendly, off grid with solar power and stand by propane generator providing all electrical /hot water and  air conditioning services. The homes face generally westward and regular stunning  sunsets are part of the package
Contact Dennis,  denniscarmedy@yahoo.com to  register your interest.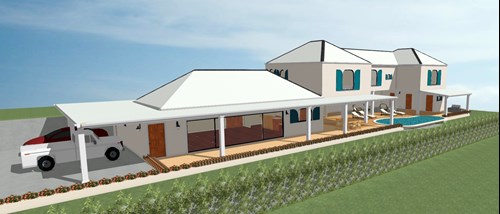 Typical view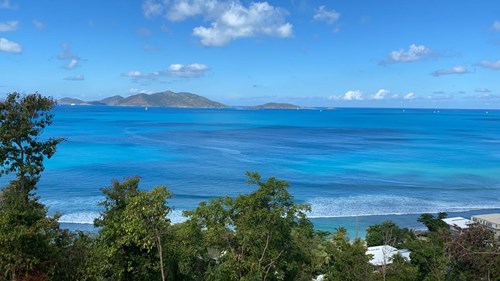 Work is in progress on the first house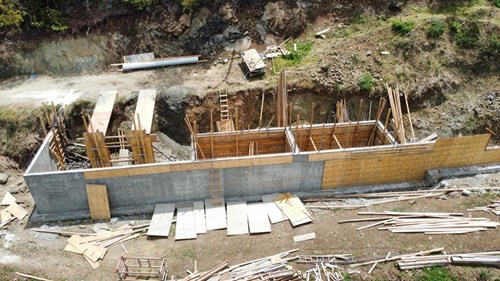 Breakfast on the water
We recently moved our breakfast operation  to Tramonti , our right on the water restaurant. 
Guests are loving the chance to try sausage , pancakes, fresh fruit etc right on the Caribbean 
Note breakfast is included for all Sugar Mill Hotel guests - menu here
Tramonti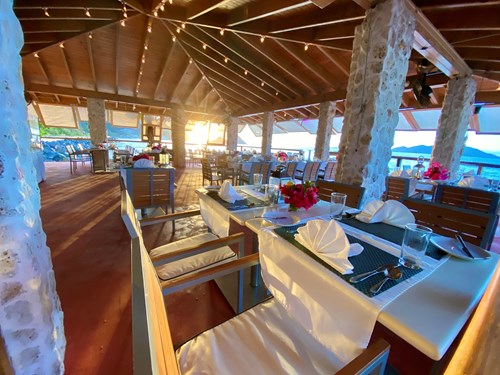 and  our pelican and frigate bird display team is giving extra morning shows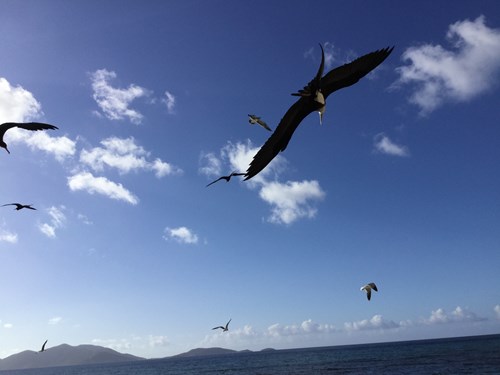 Introducing  , Rupert and Andrea Starkey who are our joint General Managers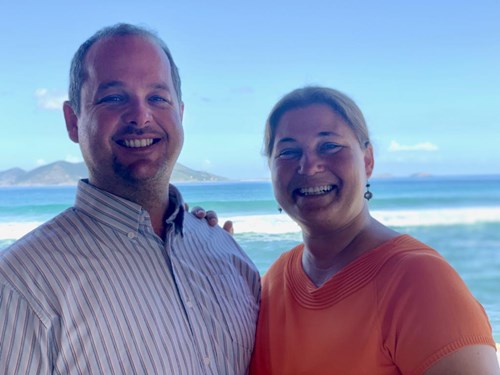 Rupert was previously, for many years,  Manager of Pirates at Norman Island the BVI's biggest and busiest restaurant
Andrea has considerable experience in hospitality in the UK  and for the last 14 years was a Manager at Guana Island, another luxury resort in the BVI. They will undoubtedly add to the guest experience at Sugar Mill
Owners Dennis and Mary will still be around and look forward to welcoming back Sugar Mill club members  and old friends
Never miss your favorite sports events  We are currently currently installing Dish  network in the hotel and this will be available in all rooms in due course.  Plus we will re-instate our after dinner movie nights in the new Rum Room lounge
The Sugar Mill Terrace Restaurant has been expanded  so that more guests can enjoy the breezy sea side dining that it offers
And the new Rum Room Lounge offers a relaxing space for pre and after dinner drinks, music and films with other entertainment planned.
The Sugar Mill Terrace Restaurant will  open 7 nights a week for dinner. 6.00 pm onwards 
A new revised menu features enticing new starters such as Escargots, Pate De Foie Gras, Coquille St Jaques and new mains including , Tournados Rossini, Beef Stroganoff and a new super dish Neptunes Feast  featuring lobster, scallops and a variety of other sea food on our famous risotto. Old favorites like Lobster Thermidor , Duck Breast etc remain. See the new menu here 
Our all inclusive guests can of course choose any dish on the new menu at no extra charge.
And new The Sugar Mill Dinner We now offer three course Table d'Hote dinner at the very attractive price of $55 for three courses. Initial menu here [ we plan periodic changes and updates ] 
Our rebuilt after Irma  Beach Bar and Restaurant Tramonti is now open see the menu here

Tramonti is open Mon through Friday for breakfast 8 - 10am and for lunch 12.00-2.3.  Weds through Saturday  in high season Tramonti is open for  dinner 6-9pm
Saturday and Sunday we open for Brunch from 9.00 am -4.00 pm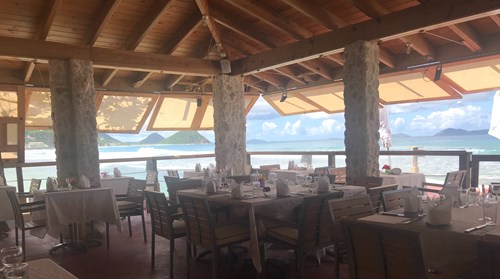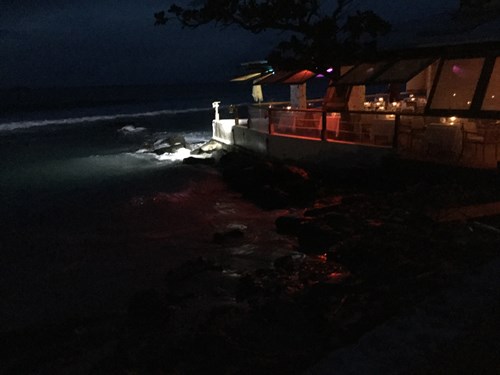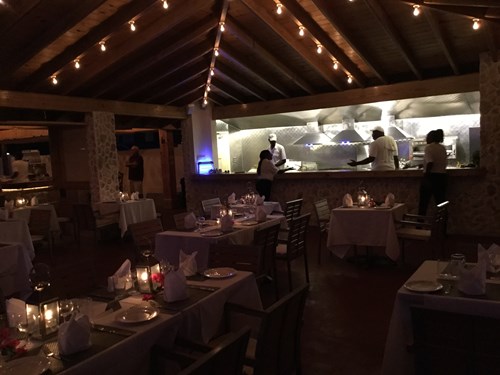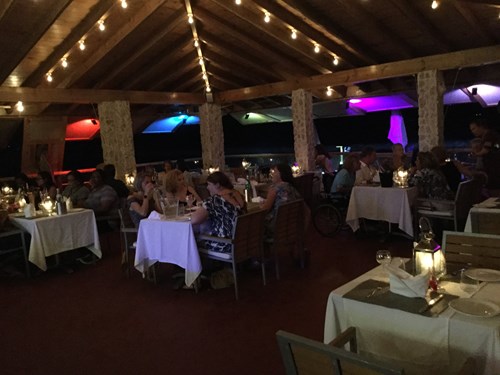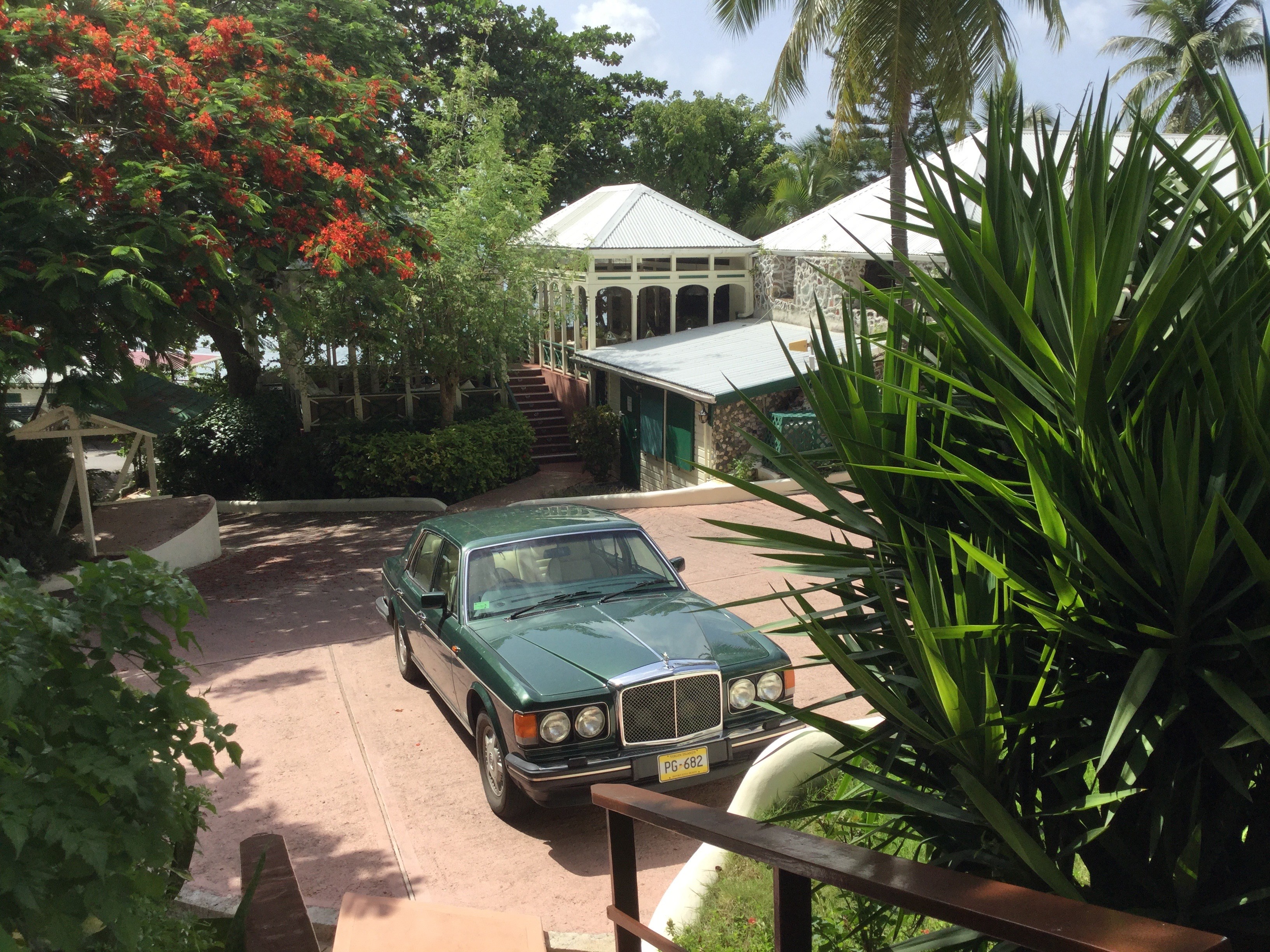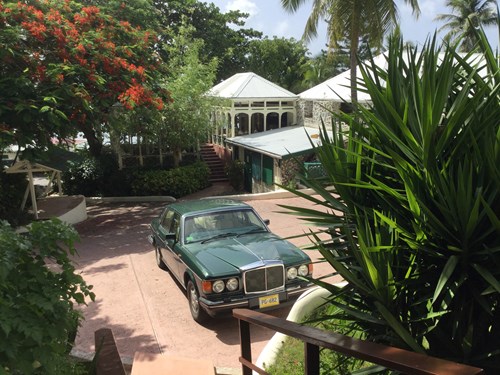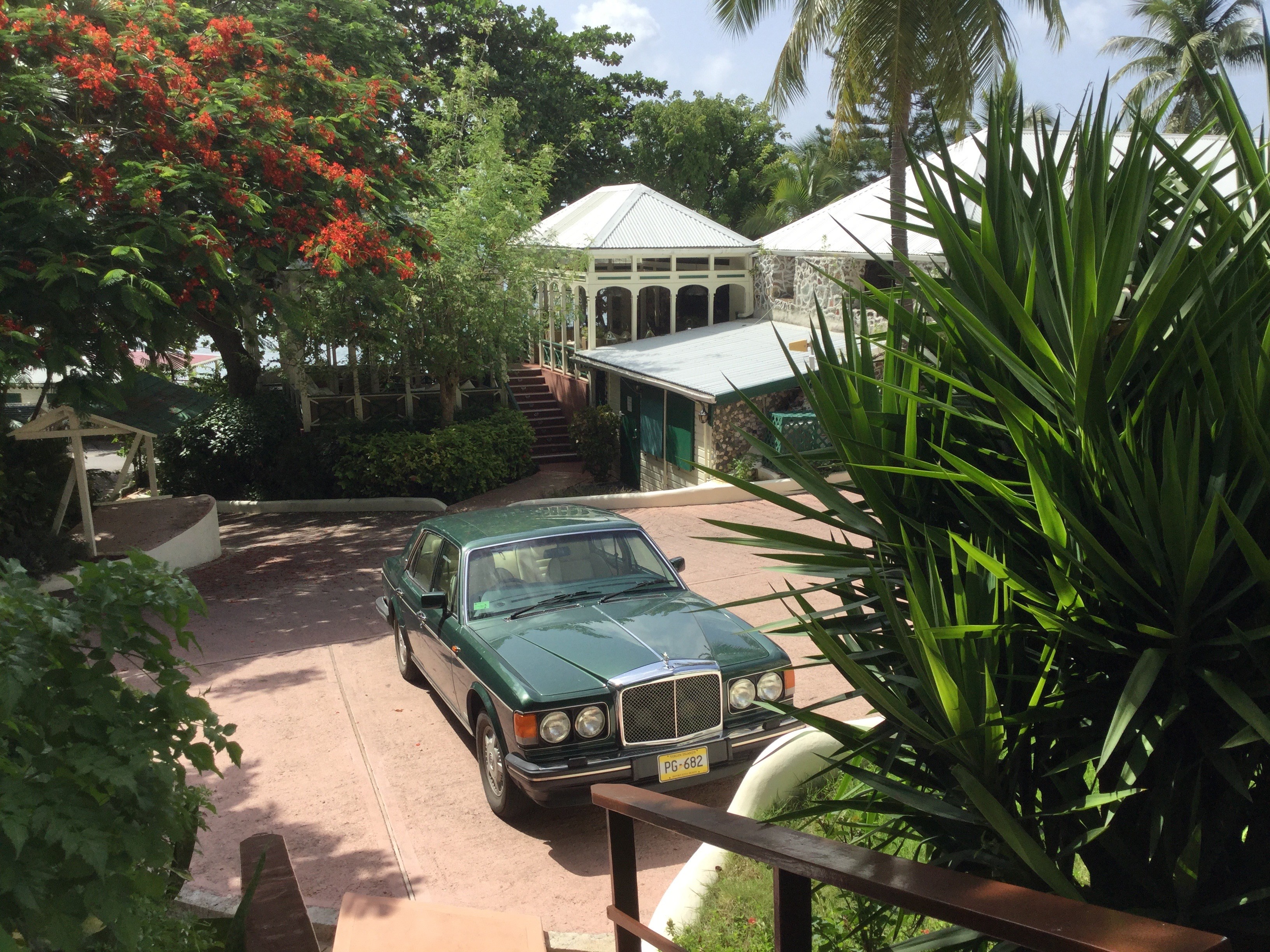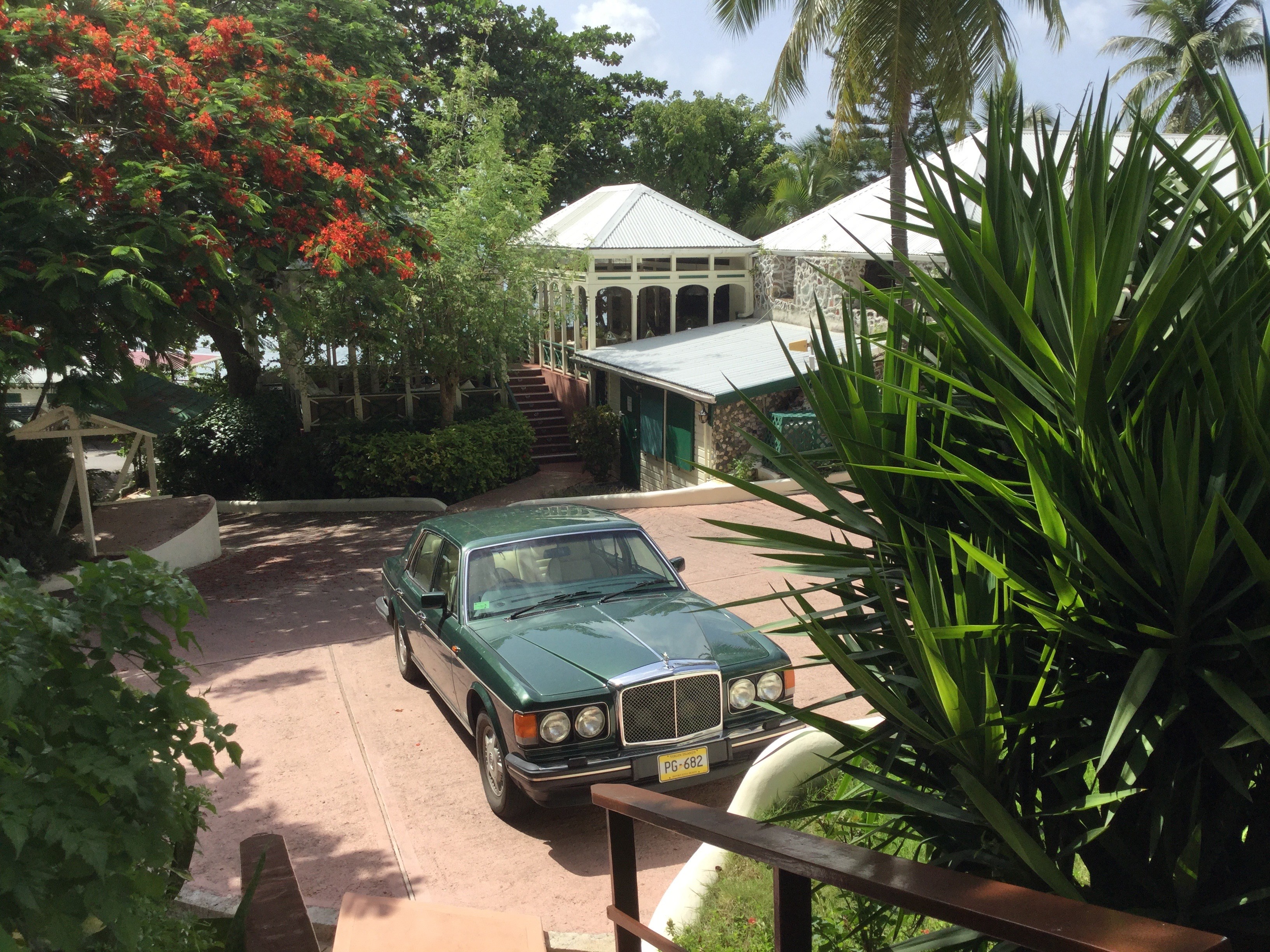 The Hotel Bentley