Our restaurants are open as follows
Wednesday -  6.00 pm  onwards Tramonti - Caribbean Night - old favorites like Rotis, Honey Stung Chicken and Lobster Muffins as well as our usual menu
Thursday - 6.30 pm Onwards Sugar Mill - wine and champagne night FREE bottle of house wine or Champagne at $49 a bottle with dinner for 2 
Friday - Tramonti-  Bar from 5pm Onwards  Barbecue night . Best ribs on the Island , fish , chicken etc. All you can eat with soup and dessert for $35 Plus our usual menu
Saturday  Lunchtime- Tramonti - 11am onwards  Brunch , Eggs Benedict, Full english Breakfast etc plus our usual menu 
Saturday Evening - Sugar Mill - 6.30pm onwards Dinner with music. Sugar Mill Table de Hote menu - 3 course $49 plus our full spectacular menu . lobster, steaks etc
Sunday  - Tramonti 11.00am onwards Brunch with Bottomless Mimosas , Full menu also available.
Hotel
THE BVI IS OPEN FOR TOURISM SINCE DEC 1ST 2020 UNDER THE FOLLOWING CONDITIONS 
Update
COVID -19 PROTOCOLS FOR BVI VISITORS*
To protect you, your loved ones & the people of the British Virgin Islands, the following protocols have been put into place, subject to change and updates. If you are visiting the BVI, here's the latest rules as published by the BVI Government on 10
th
 November, 2020. 
A certified RT-PCR COVID-19 negative test within five days prior to arrival at Beef Island Airport (EIS) if you are travelling from a low risk country; or within three days prior if from a medium or high risk country.
You will need to bring proof of Travel insurance that covers COVID-19 matters.
A test on your arrival in the BVI which is negative allows controlled movement within the confines of The Sugar Mill
Download the BVI's custom 'Track and Trace' app upon arrival and wear the tracker bracelet you will be given.
A test after 4 complete days of quarantine which, if negative, allows movement within the Territory.
If you test positive before arrival you will not be allowed to enter the BVI.
A positive test at any stage upon arrival will require fourteen (14) day quarantine.
The cost to you for the test upon arrival, the test after Day 4, the app and the bracelet will be $175.00.
THESE PRECAUTIONS MEAN THAT VISITORS CAN BE FAIRLY CERTAIN THEY ARE IN A "SAFE HAVEN" 
Each quarantine location has been rigorously tested and those passing have been accredited with a Gold Seal Certification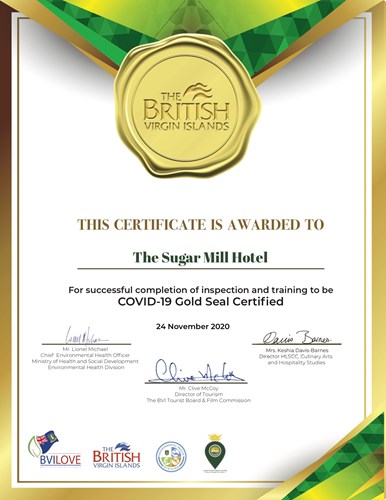 Why not spend the Winter with us
We are offering tremendous discounts on all long stays this winter 
Why not escape the winter and the virus and spend the winter months at the Sugar Mill
A safe and private room with your own front door and no communal elevators or corridors
Rates are from $1250 per room per week room and breakfast 
and thats FOR TWO PEOPLE  at the fabulous Sugar Mill
Check out the full rates offer here 
SEE OUR BEAUTIFUL HOTEL HERE
AND IF YOU ARE THINKING OF A HOME IN TAX FREE SUN SOAKED BVI See here for exciting news on our new Villas
WE ARE  MISSING YOU 
IMG_2665 from Dennis on Vimeo.
Click on picture and bars to stop 
 Come  back soon,  relax and enjoy what the New York Times is calling the second best destination in the world
[ Number 1 is the capital Washington DC so we forgive them for that ]
 For room prices and availability click here
 Please note our new phone number
 +1-284-344-8612
 alternative +44 7801316710