The Sugar Mill Hotel
Location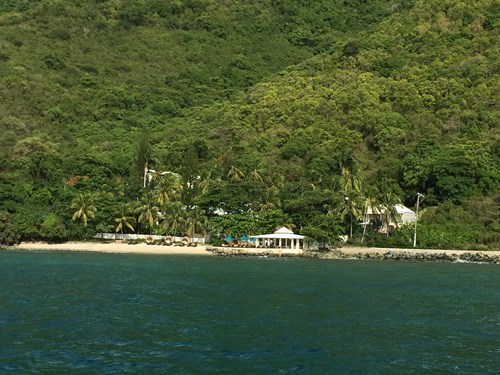 Set beside the sea amid lush tropical gardens, the Sugar Mill Hotel is the perfect place to relax & enjoy the beautiful British Virgin Islands. Boutique style with just 24 double or twin rooms in 8 different buildings dotted around the original 400 year old stone built former Sugar Mill, we offer personal service to each guest. Whether you come for a night or two or a full week or more with our new 5 star all inclusive vacation option the Sugar Mill is unforgettable.
"One of the Caribbean Hotels you should visit right now"  
"Sugar Mill Set across from the water on Apple Bay in Tortola, this is a throwback to the great Caribbean inns of yesteryear, with an excellent on-site restaurant (one that's among the hottest tables on the island) and a charming collection of cottages gathered around a 400-year-old sugar mill."
- Caribbean Journal 2017
SMALL CONVENTIONS AND MEETINGS 
THE SUGAR MILL IS IDEAL FOR SMALL CONVENTIONS AND MEETINGS FOR UP TO 50 PEOPLE 
ESPECIALLY IN THE MAY TO AUGUST PERIOD WHEN PRICES ARE LOWER , TRAVEL IS CHEAPER AND BEACHES ARE LESS CROWDED
THE SUMMER WEATHER IN THE BVI IS WONDERFUL ,NOT MUCH DIFFERENT FORM THE WINTER BUT WITH GENERALLY CALMER WATERS 
WE CAN ORGANISE BOAT TRIPS, HIDDEN BEACH BEACH PICNICS, BEACH BARBECUES WITH DANCING UNDER THE STARS, FISHING TRIPS AND MUCH MORE
AND OF COURSE PROVIDE A WONDERFUL AMBIANCE AND FOOD AT OUR FAMOUS RESTAURANTS
CONTACT US FOR FURTHER DETAILS  info@sugarmillhotel.com
NOTE OUR NEW ROOM RATES FOR XMAS 2018 - LOW SEASON RATES ARE NOW VALID UP TO DEC 25TH INSTEAD OF THE 18TH 
 Celebrate in style at the Sugar Mill
Want to know how to get to us, ferries, info about rooms etc 
Check out our FREQUENTLY ASKED QUESTIONS FAQ here
SPA - our new spa is now open  - check out our massages and treatments here 

Surfers
Our hotel is right beside the Apple Bay wave , considered by those in the know to be among the best warm water waves in the world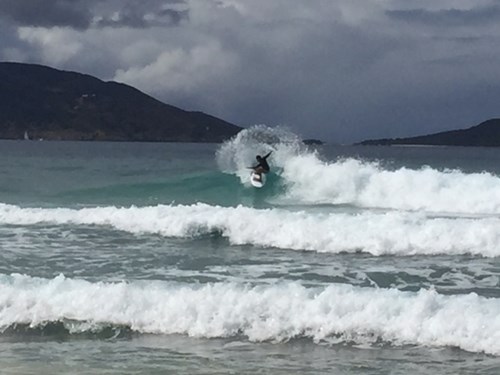 Hotel guest Frank Senese from Chicago shows how its done during his honeymoon at the Sugar Mill with a distant dramatic sea squall  for a background
The Sugar Mill Hotel
Acommodation
 All of our Caribbean style rooms have air conditioning, free wi fi,  TV,  sea views, balcony or terrace and king sized or twin beds. [ The Honeymoon Suite has a Queen size 4 poster bed ] See more room details here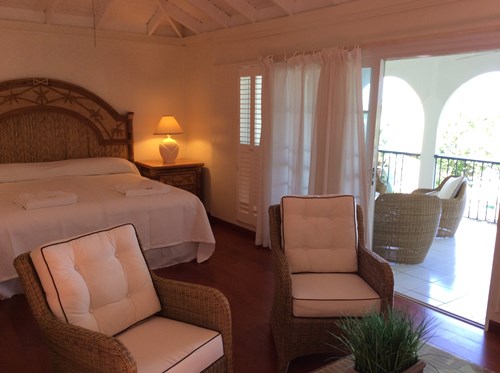 Room 110 in the Villa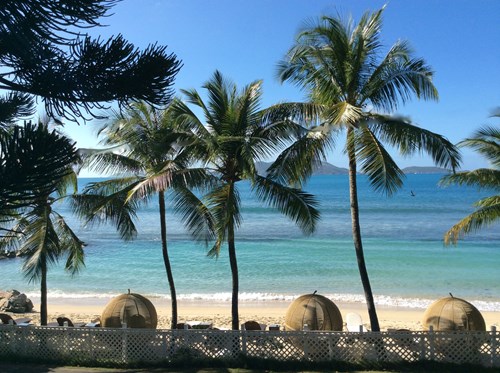 Our  beach from the Terrace Restaurant
Our small secluded beach is a place for relaxing on one of our luxury recliners or fabulous two people "Apples" while watching the pelicans play and the yachts sail past. Raise your arm and our friendly staff will be at your side to serve a cocktail or snack from our beach bar / restaurant.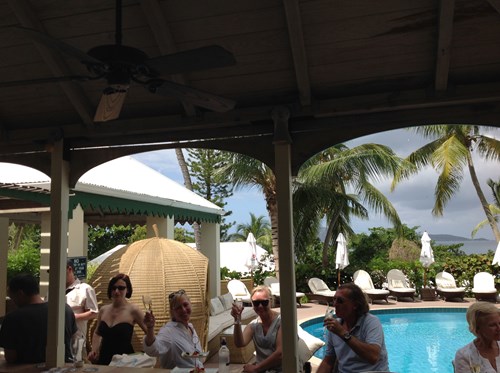 Alternately our circular fresh water swimming pool, built on the site of the estate's original oxen treadmill and nestled among swaying palm trees, offers a different option. Naturally refreshments are available from our poolside honour bar.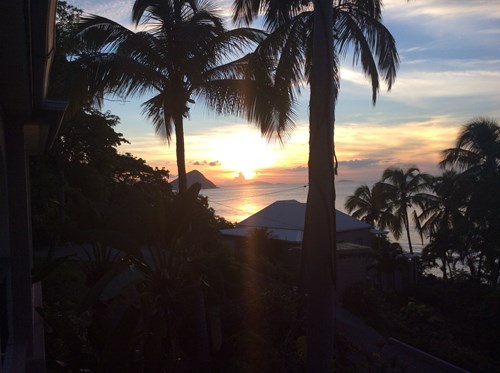 In the evening watch the amazing sunsets while you enjoy a cocktail at our Pavilions bar.
The 400 year old Sugar Mill Rum House  is now our bar and fine dining restaurant. You dine in the old Rum House  or on the terrace overlooking the beach, by candlelight.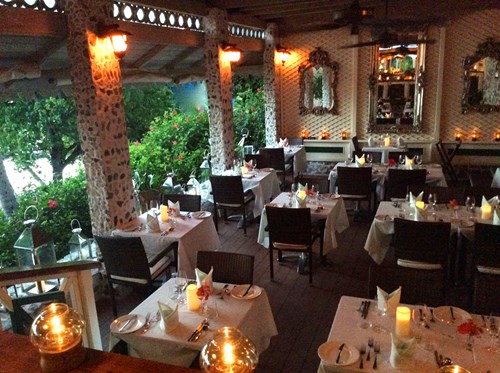 The Terrace Restaurant
The Sugar Mill Restaurant is renowned for its romantic atmosphere & culinary magic. Lobster thermidor, pulled duck, crispy belly pork, Scallops in champagne sauce - just some of the things you will find on our extensive menu. The prestigious Condé Nast Concierge.com has named the Sugar Mill "One of the Twelve Most Romantic Dining Rooms in the World." A Caribbean Travel & Life Readers' poll voted the Sugar Mill Restaurant "One of the Four Best Restaurants in the Caribbean."
Our other,  on the beach, restaurant Tramonti   will have fabulous views of the sunsets and a laid back vibe featuring Mediterranean, Italian and European cuisine. Meanwhile our Islands beach bar continues to enchant offering old favourites as well as some new  specialities.
We know our islands and
We have a full concierge service and are happy to assist in organising excursions such as windsurfing lessons, diving, day sails or spa treatments. We run regular Sugar Mill guests only tours of our island, Tortola, and exclusive boat trips to our beautiful sister islands.
 Listed by US News in 2015 as the best hotel in the BVI and the only BVI hotel to make their "Best Hotels in the Caribbean" list, The Sugar Mill is a member of the Trip Advisor Hall of Fame and has won Travellers choice awards for small hotels and for Service.
Check out our new ALL INCLUSIVE vacations at the Sugar Mill. From an amazing $3595 a week for two.
AND NEW - daily all inclusive rate - all meals and drinks included-  just add to your choice of room after you book.
CHECK ROOM RATES  AND AVAILABILITY here

READ THE FREQUENTLY ASKED QUESTIONS TO LEARN HOW TO GET TO US AND IMPORTANT FERRY INFORMATION AND DETAILS OF THE HOTEL
Before sending an enquiry , check our Frequently Asked Questions about how to reach us and details of our hotel page here

Contact details and map here
Note - new photos of our hotel coming soon